Frequently asked questions
Q: What is the onboarding process?
Log in to

Logistika Customer Portal

with credentials provided by your account manager

Create your shipment order and pickup request

Print the consignment notes for your parcels




We collect and deliver!
A detailed step-by-step guide will be provided during the onboarding process.
Q: How long is the onboarding process?
Within 1 day of signing your contract.
Q: What if I require support during the onboarding process?
For more support, you may contact your account manager directly, or reach out to us at [email protected]
Q: What is the maximum parcel size?
Maximum parcel size is 45cm + 45cm + 45cm per parcel.
Q: What is the maximum parcel weight?
Maximum parcel weight is 10kg.
Q: What if my parcel is less than 10kg but larger than the 45cm + 45cm + 45cm dimension?
Unfortunately, we only accept parcels that are a maximum weight of 10kg and maximum size of 45cm + 45cm + 45cm dimension. Anything beyond that will not be delivered.
Q: My parcel is damaged/lost.
For damaged/lost parcels, please contact us via [email protected]
Q: Can I use handwritten consignment notes?
No, you are required to print the consignment note as part of scheduling your delivery.
Q: Are there packaging guidelines I must follow?
Yes, please refer to Packaging Guidelines.
Q: What items are prohibited from delivery?
Please refer to the Prohibited Items List.
Q: Where does Logistika deliver to?

Logistika delivers both interstate and intrastate, only in Peninsular Malaysia.
Q: What is the difference between interstate and intrastate delivery?
Interstate delivery includes delivery between states in Peninsular Malaysia while intrastate delivery includes delivery within the state. East Coast Malaysia is not currently covered under intrastate and interstate.
Q: Where will Logistika hubs be located?
Logistika hubs can be found here.
Q: Can Logistika collect my parcels from my doorstep?
Yes, doorstep pickup is available for deliveries of 5 parcels or more. For deliveries of less than 5 parcels, parcel collection will be from one of our hubs.
Q: How fast is delivery time?
We proudly observe a Service Level Agreement of as quick as next-day delivery for selected areas within intrastate and up to 4 days for interstate.
Q: Are delivery re-attempts conducted?
We will re-attempt a delivery twice and will be able to keep your parcels for 7 days pending further instruction.
Q: Where will my parcels be kept if re-attempts are unsuccessful?
The parcels will be kept safely at a Logistika hub closest to your customer's home address, while waiting for delivery re-attempts.
Q: What time will pick-up happen?
Our pick-up time is from 1 pm to 5 pm daily.
Q: What is the cut-off time for pick-up request?
Any pick up request created before 1 pm will be collected on the same day.
Q: Is there a maximum number of parcels per delivery?
We have no limits on the number of parcels per delivery.
Q: Are fulfillment services provided?
Unfortunately, we do not provide fulfillment services at the moment.
Q: Are flyers provided?
Yes, we provide flyers upon request.
Q: I have five parcels, can I just make one order?
Yes, but please note that you will be charged according to the number of parcels (5) and not the number of orders (1).
Q: How do I and my customer track the parcels?
There are multiple ways to check the status of your delivery:
1. Via Logistika's Dashboard Portal - key in the tracking number under Search bar, and choose how you would like to search for your orders (by Shipment ID, Receiver Name, Reference Number or Receiver Phone Number)
2. SMS texts - customers receive at least 3 different types of SMS messages:
- Parcel has been collected from you (merchant)
- Parcel is on its way to customer
- Parcel has been delivered to customer
Q: Can my customers choose to self-pick up their parcel?

Yes, self pick- pick up is available for your customers at these hubs, with hub operation hours from Monday to Saturday (excluding public holidays) from 9am to 6pm.
Q: Is my parcel insured?
Yes, for up to RM200 per parcel.
Q: Do I have to pay registration/deposit fees?
No, you only pay for the services used.
Q: How much is charged per parcel?
Please see the table below for intrastate and interstate charges. Rate charged will be based on actual weight or dimension (L+W+H), whichever is higher.
Q: How do I pay for the service?
Invoices are issued on the first week of every month. Upon that, you will have 14 days to complete your payment transaction.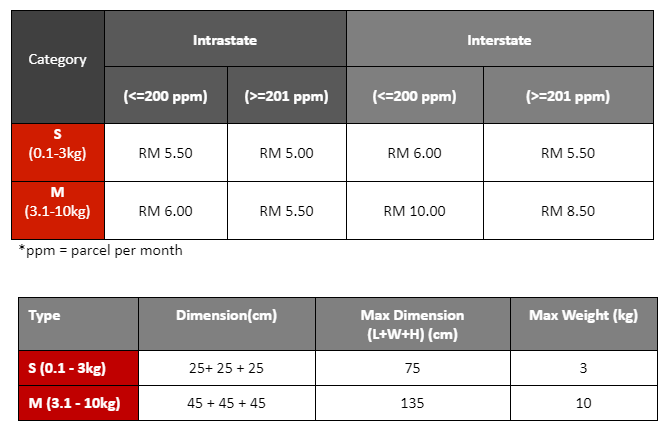 Still can't find what you're seeking for?